Life Coach vs. Therapist
Typically, therapists focus on past and present life challenges. This could be recognizing unconscious triggers toward insecurities and inner problems and helping the client to become less emotionally charged.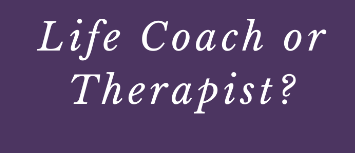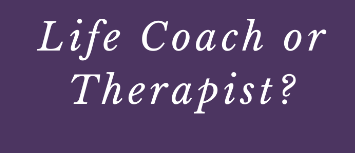 Typically, therapists focus on past and present life challenges. This could be recognizing unconscious triggers toward insecurities and inner problems and helping the client to become less emotionally charged. Have you ever gotten angry or anxious but could not understand why or the cause of it? By working on the past, the therapist helps the client to explore and understand themselves better. Therapists are often able to teach healthy coping strategies to manage and regulate emotions and thoughts. Also, therapists aid the client in processing their feelings instead of avoiding them. Clients learn more about where their beliefs formed and gain awareness of how they react.
To be a therapist, years of higher education are required with at least a master's or doctorate required. There are clinical experiences required in the field working with various populations and challenges. Sometimes the clinician gains a niche or specialization with a population or issue. Next, the therapist must have state licensure that ensures they have received a certain level of clinical hours, supervision, and competency by taking an exam. Additionally, therapists are expected to be continuous learners and therefore, attend ongoing training to build knowledge and skills towards diverse populations and issues. They are taught soft skills, hard skills, and ways to enhance their emotional intelligence. Lastly, the therapist's conduct is held to a higher standard in ethics and safety working with clients.
Coaching is more centered on the present and future challenges. The coach's goal is not to give advice but to help the client come to conclusions on what they want and keep them accountable for their goals. There is usually a less negative stigma toward hiring a coach compared to getting a therapist. Often, a coach helps clients work on themselves for progress and achievement.
However, coaches do not have any specific universal or nationwide requirements. A person can call themselves a coach but not receive any higher education, training, certification, or licensure. There are training institutes that provide courses and certifications for coaches but it is not mandated. Some individuals take college classes on coaching depending on their education program. Coaches cannot treat mental health issues or diagnose a client. Coaches would refer the client for mental health treatment. Occasionally, selected individuals with many years and experience serve in coach roles. This can benefit people in specialized fields and certain careers by having a subject matter expert or seasoned performer there to provide feedback and guide the client to reaching their goals. A coach with this background could be the best fit for those types of considerations.
It is important to research and consider the differences. It is not meant to discredit anybody but rather to inform. This is not a commonly discussed topic and it is okay to continue your understanding beyond this summary. Some skills both therapists and coaches have are being active listeners, providing empathy and compassion, asking open-ended questions, summarizing and reflecting, being non-judgmental and open-minded, and having built trust with the client.
Now, imagine if the client could find a therapist that provides mental health services and coaching. The significance is having someone appropriately credentialed, trained, and certified to be in that position and role. A therapist utilizing their clinical knowledge will have the skill sets to provide coaching, too. Are you picking a coach based on avoiding stigma? Imagine a way to work on your past, present, and future, bringing out the true authentic best self! It's possible!
To prevent receiving a mental health diagnosis on your medical record, consider the self-pay route. Using insurance requires the therapist to provide a diagnosis of the client's mental health. When hiring a coach, it is usually money coming out of the pocket as self-pay anyways. Continue to learn more in your decision-making process.
In final thought, therapists do not always work on the present and future challenges. This means finding someone that offers the ability to explore and focus on the short and long-term goals that you desire to accomplish.
A person's mentality is powerful, it can make or break a performance. Who would you trust to strengthen your mind, improve your well-being, and reach new heights in your life?
Therapist/High-Performance Coach
Kim Ernst, MSW, LCSWA